<![if !vml]>

<![endif]>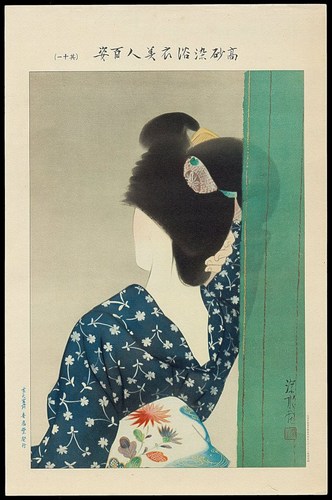 Behind the screen,
Ito Shinshui (1898-1971) - 1931
Japanese poetic forms
Many a person who is interested in the culture of Japan, will get into touch with the Japanese poetic forms.
Of these poetic forms the haiku is the best-known. It is an ultimate compact poem of three lines, consisting of seventeen 'syllables'. Although the poem is divided (5-7-5 syllables) it essentially consists of one line. This sounds very simple, but demands a lot of attention from both the reader and the writer. Every word is important and makes a contribution to what the poet wants to express.
It is a description of what strikes or struck the poet, in simple words.

A good haiku lets the reader share the experience or observation of the poet, the poet himself/herself stays out. It is not a matter of self expression.
Most haiku, especially those from Japan, show landscapes, flowers, rivers. They show more, however. A moment, a mood, an atmosphere. That is why reading a haiku demands attention of the reader.
Not until we as reader are able to slow down and to become sensitive to subtle descriptions, we can learn and appreciate a haiku. Sometimes a deeper meaning, or a suggestion of it will open. It is also possible that the reader doesn't sense this, until he/she reads the haiku again, after some time.
A red crab
Hiding in the sand—
Pure water
FUKUDA KODOJIN

Senryū
The robber,
when I catch,
my own son.
SENRYU KARAI (1718-1790)
Senryū is a Japanese form of short poetry similar to haiku in construction: Three lines with 17 or fewer morae (more or less syllables, although morae and syllables are not completely the same). However, senryū tend to be about human foibles, while haiku tend to be about nature. Senryū are often cynical or humorous, while haiku are serious. Senryū do not need to include a kigo, or season word, like haiku. The senryū is named after the poet Karai Hachiemon, who had the surname Senryū (which means 'river willow').

Some examples:
dentist's obituary
common interests
we could never talk about
C.R. MANLEY

As if it were spring
the green mold
on the cheese
GARRY GAY

rush hour—
the blonde in the Porsche peels
an orange
ROBERT BAUER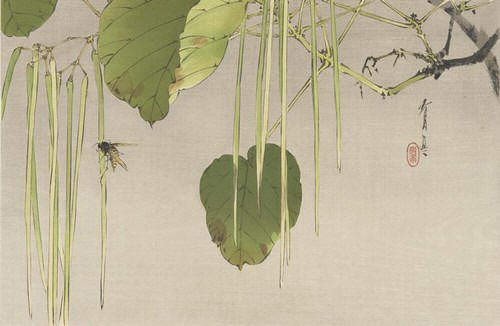 Catalpa pods and bee,
Watanabe Shotei (1851-1918) - 1916

Tanka is the name of another ancient form of Japanese poetry.
Tanka are 31-syllable poems that have been a popular form of poetry in Japan for at least 1300 years. As a form of poetry, tanka is older than haiku, and tanka poems evoke a moment or mark an occasion with concision and musicality.
Long ago, around 1000 A.D., it was considered essential for a woman or man of culture to be able to both compose beautiful poetry and to choose the most aesthetically pleasing and appropriate paper, ink, and symbolic attachment, such as a branch, a flower, to go with it.
Tanka were often composed as a kind of finale to every sort of occasion; no experience was quite complete until a tanka had been written about it.
Tanka have changed and evolved over the centuries, but the form of five syllabic units containing 31 syllables has remained the same. Topics have expanded from the traditional expressions of passion and heartache, and styles have changed too.
In Japanese, tanka is often written in one straight line, but in English and other languages, they are usually divided into the five syllabic units: 5-7-5-7-7. Usually, each line consists of one image or idea; unlike English poetry, one does not seek to "wrap" lines in tanka, though in the best tanka the five lines often flow seamlessly into one thought.
Many writers of Dutch-, English- or German-language tanka use less than 31 syllables to achieve the form in their language.
Some examples:

all day
rain has come down
drop by drop
the pain of your absence
has penetrated me
KEITH MCMAHEN

In castle ruins
the tappings of a hand-drum
so clearly echo,
that in Komachi's dancing
even the moon seemed to smile. 
HIROKO SEKI

burning
yet this morning
the porch light
I switched on last night
as you strode away
ANN HORN

POETRY...

Two rings I once wove
from grasses beside a stream.
One I gave away,
its mate I kept for myself,
pressed in the depths of a book.
ABDUL AZIZ BIN ABDULLAH

now the swinging bridge
is quieted with creepers
like our tendrilled life
BASHO (1644-1694)

Spring rain
conveyed under the trees
in drops.
BASHO (1644-1694)

by the old temple,
peach blossoms;
a man treading rice.
BASHO (1644-1694)

with every gust of wind,
the butterfly changes its place
on the willow.
BASHO (1644-1694)

all the day long-
yet not long enough for the skylark,
singing, singing.
BASHO (1644-1694)

Cedar umbrellas, off
to Mount Yoshimo for
the cherry blossoms.
BASHO (1644-1694)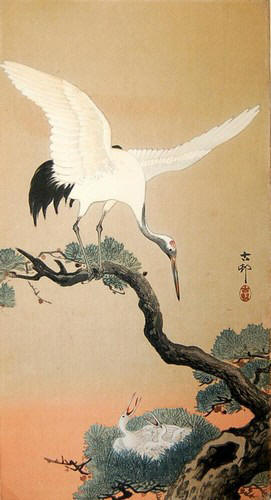 Crane with nestlings in pine tree,
Koson Chara (1877-1945) - 1910

desert heat
the lizard disappears
into a snake
ERNEST J. BERRY

nude beach
an empty bikini
turns me on
ERNEST BERRY

a mosquite buzzes
every time flowers
of honeysuckle fall
BUSON (1716~1783)

tilling the field:
the man who asked the way
has disappeared
BUSON (1716~1783)

since morning glories
hold my well-bucket hostage
I beg for water
CHIYO-NI (1701-1775)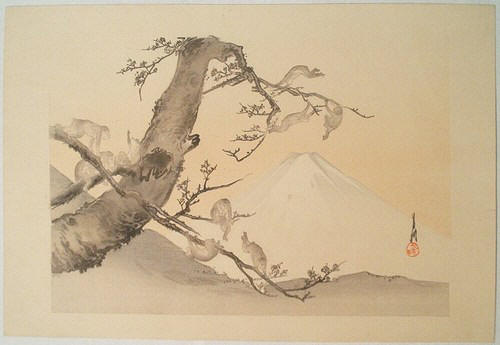 no.30 part of the '110 views of Mt. Fuji'series,
Ogata Gekko (1859-1920) - 1900

An old woman reads
by a fast flowing trout stream
grass seeds ride rapids
the breeze turns back the pages
of her now torn pillow book
PAUL T CONNEALLY

Trailing in the stream
the long grasses of summer
minnows nibble them
where the current flows slowly
putting on fat for winter
PETER DUPPENTHALER

Jingle of the dog's collar
out in the hall-
we pause
in our lovemaking,
Christmas Eve
MICHAEL DYLAN WELCH

fingering my tattoo
granddaughter asks
when she can have numbers
LESLEY EINER


arguing -
a deaf man grabs
the other's hands
KENNETH ELBA CARRIER

reconciliation
the candle between us
sputters
SANDRA FUHRINGER

Anne Frank
how you scribbled,
endured,
and now I tramp up these stairs
they hurried you down
SANFORD GOLDSTEIN

autumn dusk -
a word that will do
for the one I can't find
CAROLYN HALL

Beautiful stranger
beside me on the train--
what is it about me
that keeps her filing her nails
for nearly fifty miles?
TOM HARTMAN

ashes my burned hut
but wonderful the cherry
blooming on the hill
HOKUSHI (d. 1718)

brilliant moon
is it true that you too
must pass in a hurry?
ISSA (1763-1827)

winter evening
with tiny stitches
the doll's smile returns
INGRID KUNSCHKE

just like that
you glance at my neckline—
in for the game
I shamelessly present myself
in a most becoming light
INGRID KUNSCHKE

leaving them alone
moonlight
on roses

AI LI

mistaking telephone
for doorbell -
I let loneliness in
DANIEL LIEBERT

saving her best dishes
for a better day
my eighty year old mother
THERESA MORMINO

first autumn morning
the mirror I stare into
shows my father's face
MURAKAMI (1865-1938)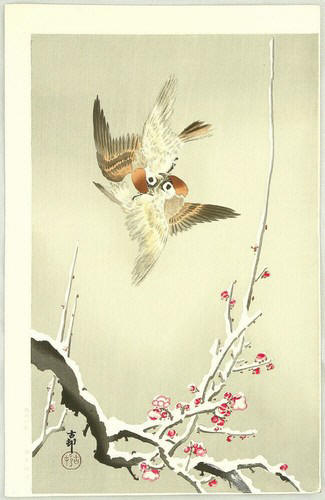 Sparrows above Plum Tree,
Koson Chara (1877-1945)

aftershock
the picture on the wall
straightens
W F OWEN

grinding sausage meat
she recounts the times
her husband cheated
BILL PAULY

battered child
. . . kicking the swing
higher
MARGARET PEACOCK

I glance up
the clouds have changed
configurations
while I read of love
and inconsistent moods
FRANCINE PORAD

Around the dawn hour
when that blackbird had been singing
for two or three hours
grasses on the river bank
whisper gently in the breeze
DAN PUGH

persimmons getting soft
day by day
more birds
IWAKOSHI SEIFU

for love and for hate
I swat a fly and offer it
to an ant
SHIKI (1867-1902)

Spring rain;
holding an umbrella, and looking
at the picture books in the shop.
SHIKI (1867-1902)

the tree cut,
dawn breaks early
at my little window
SHIKI (1867-1902)
Walls full
of artwork
but all I see
is her skirt moving
in the ventilation breeze
JOHN SHREIRER

across the still lake
through upcurls of morning mist—
the cry of a loon
O. MABSON SOUTHARD

in the dream
my dog has a whistle
only I can hear
JOHN STEVENSON

too quick to reply
cutting my tongue
on the envelope
JOHN STEVENSON

There is a saddness
when after days of turning
through fields of flowers
that seem endless, suddenly
the stream reaches the ocean.    
NECA STOLLER

around the eyes
of the old fisherman
permanent ripples

GEORGE SWEDE

naked at the ironing board
concentrating
on a crease
MARILYN TAYLOR

on the same bus
the same strangers
as yesterday
JOHN THOMPSON

Riding a bus
through the Oklahoma heat
an old woman
tells everything that matters
to someone else's son
MARC THOMPSON

The Shirakawa--
its shallow stream is flowing
so clearly away,
while a fragrance of the first
bush clovers falls from its banks.
NOBUKO TSUDA

As it turns darker,
sounds of music and chanting
are growing stronger:
the fiery light releases
fragrance from the dancer's sleeves.
NOBUKO TSUDA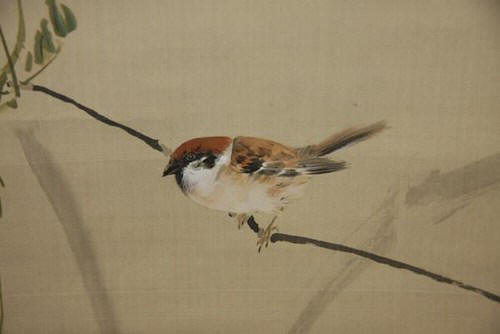 Wisteria and sparrow,
Watanabe Shotei (1851-1918) - detail

- - - - - - - - - - T O P - - - - - - - - - -
Texts, pictures, etc. are the property of their respective owners.
Cedar Gallery is a non-profit site. All works and articles are published on this site purely for educational reasons, for the purpose of information and with good intentions. If the legal representatives ask us to remove a text or picture from the site, this will be done immediately. We guarantee to fulfill such demands within 72 hours. (Cedar Gallery reserves the right to investigate whether the person submitting that demand is authorized to do so or not).
The contents of this website (texts, pictures and other material) are protected by copyright. You are welcome to visit the site and enjoy it, but you are not allowed to use it, copy it, spread it. If you like to use a picture or text, first send your request to
- - - - - - - - - - T O P - - - - - - - - - -