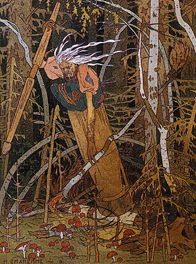 Baba Yaga, Ivan Bilibin
<![if !vml]>

<![endif]>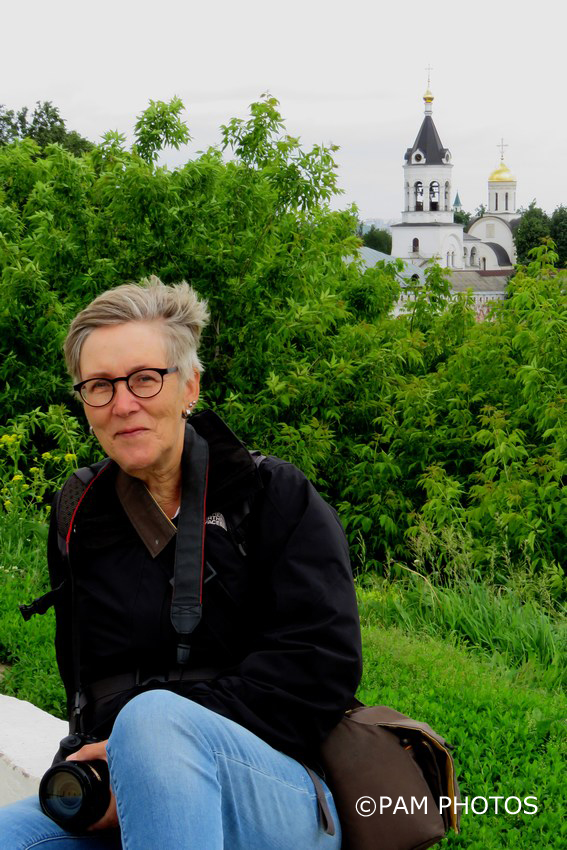 Telling stories (and listening to them) is probably the oldest form of entertainment known to man.
On our travels we noticed that in many countries there is still a vibrant tradition of storytelling.
Folktales and narratives remain a source of fascination in many cultures.
My section, 'Russian stories', will consist largely of my own experiences while travelling through Russia, in addition to interesting local folklore: Russian fairy tales with illustrations by some of my favorite Russian artists, Ivan Bilibin and Victor Vasnetsov.
Enjoy reading, and please let me know what you think of the stories. Any help offered to keep the site going would be welcome!

A.W. March 2019

Photo's: Cees & Aly Wagenvoorde
©PAM PHOTOS Delden
©.All Rights Reserved. NO!- Neither Facebook and Instagram nor any other visitor may use my name or any of my content without my permission.
You can contact me at cedars@live.nl

Subjects
Abramtsevo - Baba Yaga (fairy tale) - by train - Morozko (fairy tale) - Moscow I - Moscow, history of a cathedral - Sergiev Posad I - Sergiev Posad II - Snow maiden (fairy tale)
- - - - - - - - - - - - - - - - - - - - - - - - - - - - - - - - - - - - - - - - - - - - - - - - - - - - - - - - - - - - - - - - - - - - - - - - - - - - - -

Moscow (1), Aug. 2008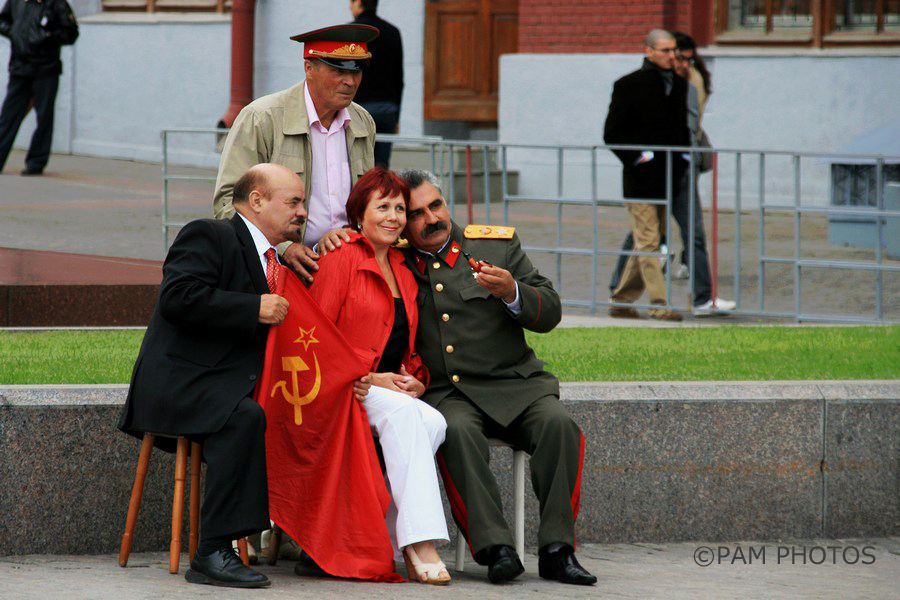 Now, everyone in Russia is preoccupied with Vladimir Putin. But to equate this vast empire and it's rich culture and glorious past with one man, would be a complete misunderstanding of the Russian psyche. Russia is much more than Vladimir Putin. Russia has enriched the world with, among other things, great master pieces in the fields of music, literature, and art, including such great minds as Dostoevsky, Chekhov, Tolstoy, and Tchaikovsky, to name only a very few. So, to identify Russia with Putin would be a gross injustice to this magnificent country.
Russia has always had great and powerful leaders however. After the tsars came the Communist leaders.
In 2008 we met the two most famous of these near Red Square. The first was Vladimir Ilyich Lenin (1870-1924), who seized power in 1917. He actually wanted to improve the lives of small farmers and workers; but tolerated little dissention, coming down with an iron fist on those who challenged him. The other was Joseph Stalin (1879-1953). Stalin took over the country in 1924. Here in the west, he has a reputation as a brutal dictator, because of the horrors he visited on his people. During his reign millions were murdered. I must add though, that not every Russian would concur with our assessment of Stalin.
On this nice day in August we heard no complaints from Lenin and Stalin as they stoically stood overlooking the throngs of visitors who came to see them.
(Music: (Tchaikovsky - The Nutcracker or Swan Lake; Rimski Korsakov - Shéhérazade)
* * * * * * * * * * * * * * * * * * * * * * * * * * * * * * * * * * * * * * T O P * * * * * * * * * * * * * * * * * * * * * * * *
Moscow - history of a cathedral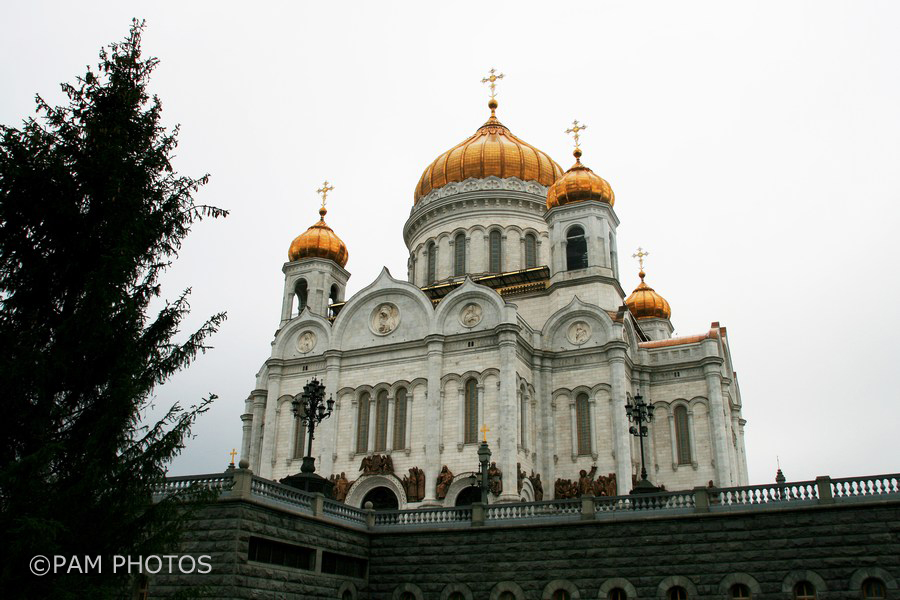 Other times
In 1838 the construction of the Christ the Savior Cathedral in Moscow began. This cathedral was built to commemorate the Russian victory over Napoleon's Grande Armée. When it was built, it was the largest orthodox church in the world. This cathedral, where almost half a ton of gold was used to adorn it's interior, as well as precious gems, offered a place to worship for tens of thousands of believers.
But times can, and do, change.
In 1931 Stalin had the church destroyed in order to build the gigantic Palace of the Soviets in its place. It was to become a more than 300m high tower, with a 100m high statue of Lenin on top. However, the new symbol of Communist rule was never constructed on this ancient foundation.
Instead secretary Nikita Khrushchev (1894-1971) had an open-air swimming pool built on the location, in the 1950's. This bath was very popular amongst the people of Moscow. Unfortunately, as a result of being heated, volatiles were generated that negatively affected the neighbouring art collection of the Pushkin Museum; and when it became evident that necessary repairs, to correct the problem, could not be carried out, the swimming pool was closed, in 1993.
So what became of this site?
Plans to reconstruct the cathedral in the 1990s were not embraced by everyone. It was seen as a prestigious, but frivolous project, costing millions of rubles, money that could be spent in better ways. People were told that the reconstruction would not be financed out of general funds; but in the end that was exactly what happened. This did not go down well with poverty stricken Muscovites, and considerable resistance ensued.
In the end, the Savior Cathedral rises like a phoenix from the ashes.
The history of the Christ the Savior Cathedral stands as silent testament to Russia's authoritarian tradition.
Putin has, of course, adopted some of the practices of the former Soviet leaders; but, as can be seen from the story surrounding the previously mentioned cathedral, Putin, in a religious sense, bears more resemblance to the tsars than to his predecessors; and what distinguishes him from them is his close relationship to the Russian Orthodox Church.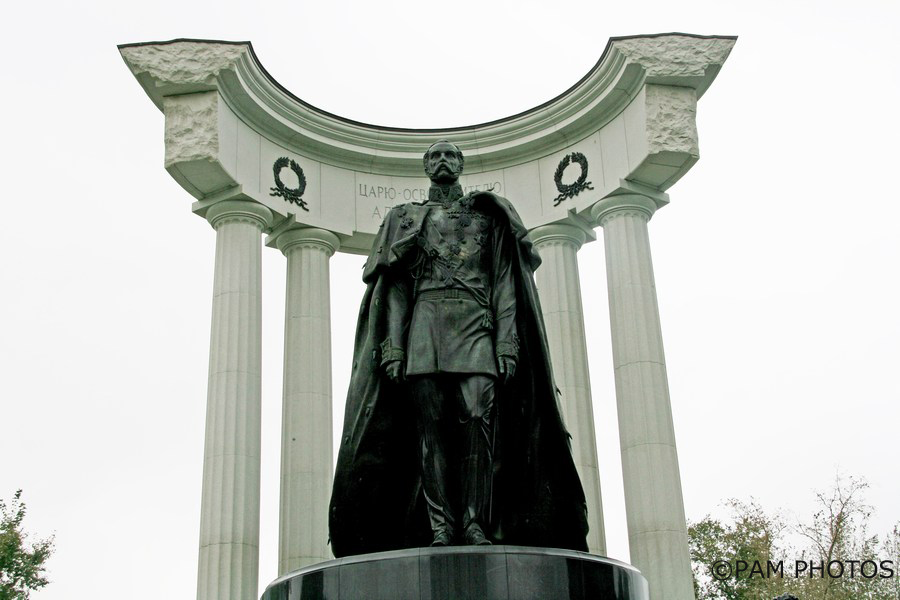 The statue of Tsar Alexander II (1818-1881) is located in a small garden opposite the Cathedral of Christ the Savior. This tsar seems to have been present at the official opening of the original church.
The government in Moscow reserved 60 million rubles for both the design and execution of the work, as well as the furnishing of the area around the statue.
In 1990, Alexius II was declared patriarch of Moscow (and all of Russia) and put in charge of about 100 million believers.
After the fall of the Soviet Union, under the leadership of Alexius II, support for the Russian Orthodox Church grew stronger among the Russian population.
In the West, not everyone was enthusiastic about his leadership. He criticized tolerance toward homosexual behaviour, and characterized homosexual demonstrations as campaigns promoting immoral behaviour.
Patriarch Alexius II performed the dedication of the monument to Alexander II in 2005.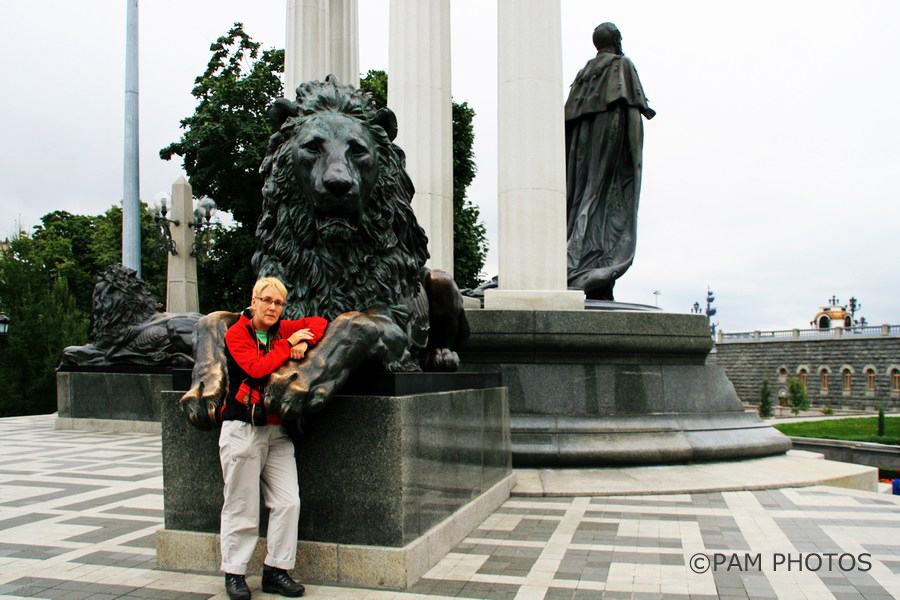 Two colossal lions stand guard on either side of this statue. The image itself stands on a black base supported by a semi-circular arch with four columns. The plaque at the foot of the statue refers to 1861, the year in which Tsar Alexander II ended serfdom. The inscription states, he 'freed millions of peasants from centuries of slavery'.
In addition to some other glorifying text, the year 1881 is mentioned. This is the year in which Alexander II was murdered.
* * * * * * * * * * * * * * * * * * * * * * * * * * * * * * * * * * * * * * T O P * * * * * * * * * * * * * * * * * * * * * * * *
Saint Sergius (born around 1314) lived in seclusion after he was 23 years old.
His parents had died, and his brother (a monk) found a remote place for him to live, since he did not want to live in a monastery.
Sergius led an ascetic's life and filled his time with work and prayer. His brother and he built a small cell and a church dedicated to the Trinity, deep in the woods. After some time his brother left for a monastery in Moscow and Sergius was left alone. He dedicated his whole life to the glory of God.
It wasn't long before other monks came to visit, asking him to be their leader. Farmers and citizens also came to receive his blessing and seek his advice.
He's a fascinating character, not only for what he accomplished, but as an inspiration. Stories like his abound throughout various cultures all over the world. These aesthetics invariably live quite contemplative lives of seclusion; and their interactions with the outside world are restricted. Yet, or more precisely because of this, they serve as examples to monks and laymen on how to live.
Where Sergius lived the number of monks continued to grow; and not far from there, a posad arose that would develop into the city of Sergiev Posad.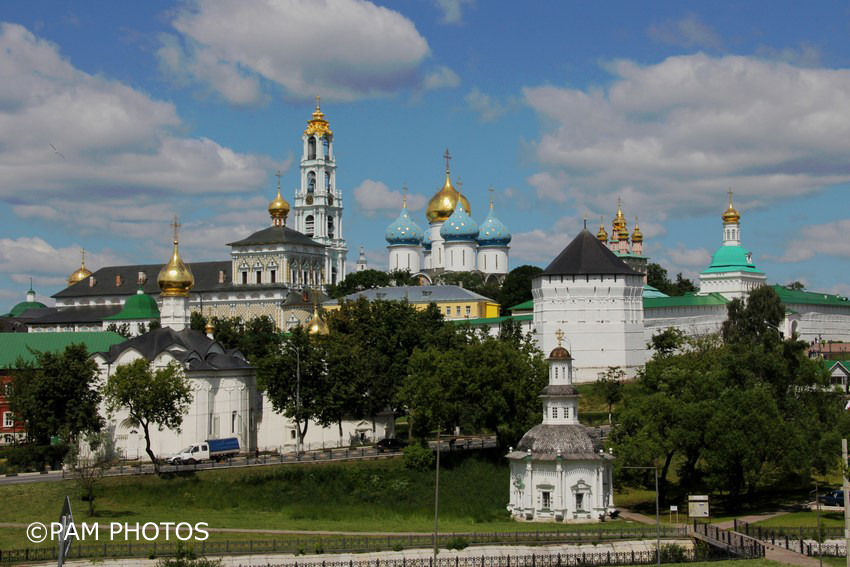 We visited the beautiful Sergiev Posad, about 70 km north of Moscow, in 2016. It is one of the cities on the so-called Golden Ring.
The city is best known for the Troitse-Sergieva Lavra, the monastery that was founded here in the 14th century by St. Sergius of Radonezh. This monastery is one of the largest and most important ones in the country. Hence the title 'lavra'.
It is a huge complex with very beautiful buildings.
- - - - - - - - - - - - - - -
A POSAD was a settlement in the Russian Empire, often surrounded by ramparts (defensive walls, to protect the settlement from potential aggressors) and a moat (a deep, broad ditch, surrounding the settlement), adjoining a town or a kremlin, but outside of it, or adjoining a monastery in the 10th to 15th centuries.
Some posads developed into towns, such as Sergiev Posad.
The posad was the center of trade in Ancient Rus. Merchants and craftsmen resided there and sold goods such as pottery, armor, glass and copperware, icons, and clothing; as well as food, wax, and salt. Most large cities were adjoined by a posad.
As posads developed, they became like villages. And a number of posads even evolved into towns. Those by a monastery were often named after the monastery, Sergiev Posad is named after the nearby Troitse-Sergiyeva Lavra.
- - - - - - - - - - - - - - -
* * * * * * * * * * * * * * * * * * * * * * * * * * * * * * * * * * * * * * T O P * * * * * * * * * * * * * * * * * * * * * * * *
I actually have to go back, sometime.
I really would have liked to have visited Abramtsevo, which was situated near Sergiev Posad. It is an estate where many Russian artists lived and worked between 1843 and 1917. I have read a great deal about it and spoke of it in some of my lectures, but have never been there myself. In 2016, when I was in the vicinity, restoration work was in progress; so it did not seem like an appropriate time to visit. I very much regret missing the opportunity of adding my footsteps to those of Michael Vroebel, Vasili Polenov, Viktor Vasnetsov and Valentin Serov.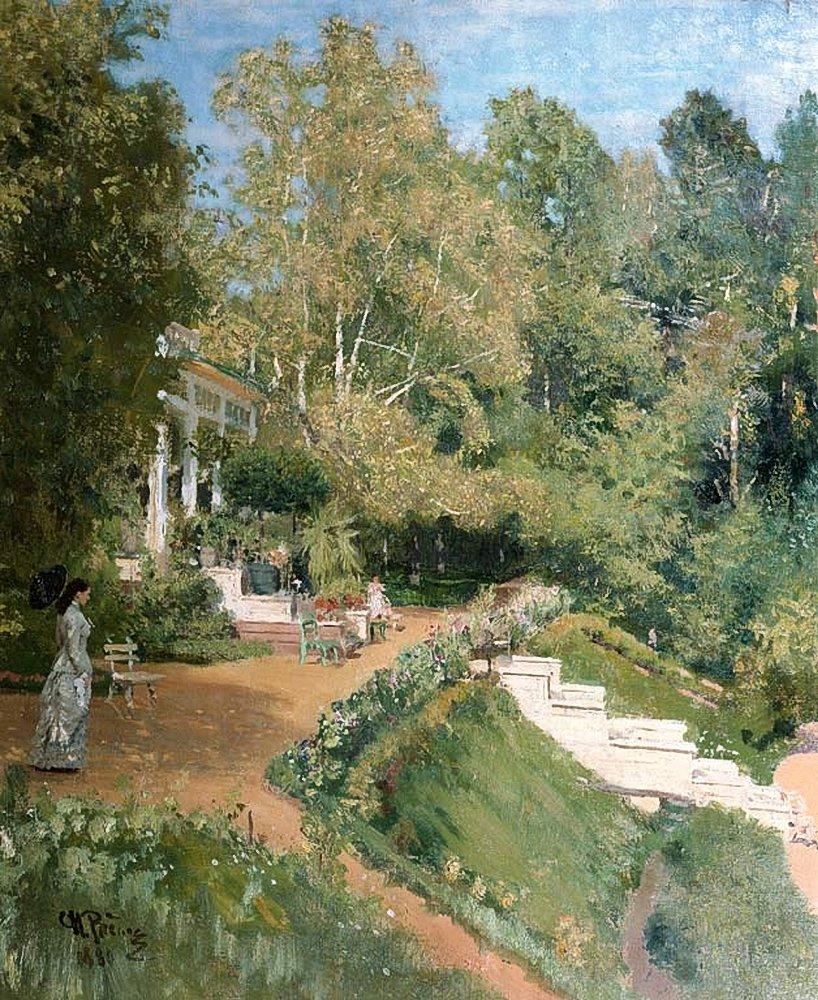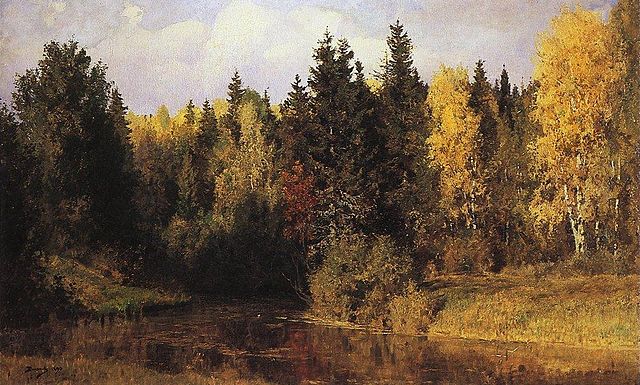 Left: Abramtsevo landscape by Ilya Repin, 1880 Right: Abramtsevo landscape by Vasiliy Polenov


* * * * * * * * * * * * * * * * * * * * * * * * * * * * * * * * * * * * * * T O P * * * * * * * * * * * * * * * * * * * * * * * *
Baba Yaga
Featured in most of the stories is the old crone Baba Yaga. Once in a while, Baba Yaga is portrayed as kindly, but the norm is that Baba Yaga is the essence of wickedness. She has iron teeth for eating children when she can get them (Russian parents tell their children that Baba Yaga eats only children who misbehave). Her mode of transportation, the giant mortar that she beats with a pestle to go faster, is a classic element in Baba Yaga stories. Another motif is her hut, which as described in the Baba Yaga story presented here, stands on hen's legs and can move about at whim.
Firebirds and firebrands, forests and fools, water and witches, puissant princesses and pulchritudinous princes: all of these and more are elements within the environment of Russian fairy tales. Many of these factors are similar to those found in fairy tales told all over the world, as are the history and structure of tales in Russia . However, the fairy tales of Russia also possess a number of characters who, though they have counterparts in other cultures, are unique to the Slavic tradition - including Baba Yaga, Koshchei the Deathless, and various spirits.

<![if !vml]>

<![endif]>
Once upon a time an old man, a widower, lived alone in a hut with his daughter Natasha. Very merry the two of them were together, and they used to smile at each other over a table piled with bread and jam, and play peek-a-boo, first this side of the samovar, and then that. Everything went well, until the old man took it into his head to marry again.
So the little girl gained a stepmother. After that everything changed. No more bread and jam on the table, no more playing peek-a-boo around the samovar as the girl sat with her father at tea. It was even worse than that, because she was never allowed to sit at tea at all anymore. The stepmother said that little girls shouldn't have tea, much less eat bread with jam. She would throw the girl a crust of bread and tell her to get out of the hut and go find someplace to eat it. Then the stepmother would sit with her husband and tell him that everything that went wrong was the girl's fault. And the old man believed his new wife.
So poor Natasha would go by herself into the shed in the yard, wet the dry crust with her tears, and eat it all by herself.
Then she would hear the stepmother yelling at her to come in and wash up the tea things, and tidy the house, and brush the floor, and clean everybody's muddy boots.
One day the stepmother decided she could not bear the sight of Natasha one minute longer. But how could she get rid of her for good? Then she remembered her sister, the terrible witch Baba Yaga, the bony-legged one, who lived in the forest. And a wicked plan began to form in her head.
The very next morning, the old man went off to pay a visit to some friends of his in the next village. As soon as the old man was out of sight the wicked stepmother called for Natasha.
"You are to go today to my sister, your dear little aunt, who lives in the forest," said she, "and ask her for a needle and thread to mend a shirt."
"But here is a needle and thread," said Natasha, trembling, for she knew that her aunt was Baba Yaga, the witch, and that any child who came near her was never seen again. "Hold your tongue," snapped the stepmother, and she gnashed her teeth, which made a noise like clattering tongs. "Didn't I tell you that you are to go to your dear little aunt in the forest to ask for a needle and thread to mend a shirt?"
"Well, then," said Natasha, trembling, "how shall I find her?" She had heard that Baba Yaga chased her victims through the air in a giant mortar and pestle, and that she had iron teeth with which she ate children.
The stepmother took hold of the little girl's nose and pinched it.
"That is your nose," she said. "Can you feel it?"
"Yes," whispered the poor girl.
"You must go along the road into the forest till you come to a fallen tree," said the stepmother, "then you must turn to your left, and follow your nose and you will find your auntie. Now off with you, lazy one!" She shoved a kerchief in the girl's hand, into which she had packed a few morsels of stale bread and cheese and some scraps of meat. Natasha looked back. There stood the stepmother at the door with her arms crossed, glaring at her. So she could do nothing but to go straight on.
She walked along the road through the forest till she came to the fallen tree. Then she turned to the left. Her nose was still hurting where the stepmother had pinched it, so she knew she had to go on straight ahead.
Finally she came to the hut of Baba Yaga, the bony-legged one, the witch. Around the hut was a high fence. When she pushed the gates open they squeaked miserably, as if it hurt them to move. Natasha noticed a rusty oil can on the ground.
"How lucky," she said, noticing that there was some oil left in the can. And she poured the remaining drops of oil into the hinges of the gates.
Inside the gates was Baba Yaga's hut. It wasn't like any other hut she had ever seen, for it stood on giant hen's legs and walked about the yard. As Natasha approached, the house turned around to face her and it seemed that its front windows were eyes and its front door a mouth. A servant of Baba Yaga's was standing in the yard. She was crying bitterly because of the tasks Baba Yaga had set her to do, and was wiping her eyes on her petticoat.
"How lucky," said Natasha, "that I have a handkerchief." She untied her kerchief, shook it clean, and carefully put the morsels of food in her pockets. She gave the handkerchief to Baba Yaga's servant, who wiped her eyes on it and smiled through her tears.
By the hut was a huge dog, very thin, gnawing an old bone.
"How lucky," said the little girl, "that I have some bread and meat." Reaching into her pocket for her scraps of bread and meat, Natasha said to the dog, "I'm afraid it's rather stale, but it's better than nothing, I'm sure." And the dog gobbled it up at once and licked his lips.
Natasha reached the door to the hut. Trembling, she tapped on the door.
"Come in," squeaked the wicked voice of Baba Yaga.
The little girl stepped in. There sat Baba Yaga, the bony-legged one, the witch, sitting weaving at a loom. In a corner of the hut was a thin black cat watching a mouse-hole. "Good day to you, auntie," said Natasha, trying to sound not at all afraid.
"Good day to you, niece," said Baba Yaga.
"My stepmother has sent me to you to ask for a needle and thread to mend a shirt."
"Has she now?" smiled Baba Yaga, flashing her iron teeth, for she knew how much her sister hated her stepdaughter. "You sit down here at the loom, and go on with my weaving, while I go and fetch you the needle and thread."
The little girl sat down at the loom and began to weave.
Baba Yaga whispered to her servant, "Listen to me! Make the bath very hot and scrub my niece. Scrub her clean. I'll make a dainty meal of her, I will."
The servant came in for the jug to gather the bathwater. Natasha said, "I beg you, please be not too quick in making the fire, and please carry the water for the bath in a sieve with holes, so that the water will run through." The servant said nothing. But indeed, she took a very long time about getting the bath ready.
Baba Yaga came to the window and said in her sweetest voice, "Are you weaving, little niece? Are you weaving, my pretty?"
"I am weaving, auntie," said Natasha.
When Baba Yaga went away from the window, the little girl spoke to the thin black cat who was watching the mouse hole.
"What are you doing?"
"Watching for a mouse," said the thin black cat. "I haven't had any dinner in three days."
"How lucky," said Natasha, "that I have some cheese left!" And she gave her cheese to the thin black cat, who gobbled it up. Said the cat, "Little girl, do you want to get out of here?"
"Oh, Catkin dear," said Natasha, "how I want to get out of here! For I fear that Baba Yaga will try to eat me with her iron teeth."
"That is exactly what she intends to do," said the cat. "But I know how to help you."
Just then Baba Yaga came to the window.
"Are you weaving, little niece?" she asked. "Are you weaving, my pretty?"
"I am weaving, auntie," said Natasha, working away, while the loom went clickety clack, clickety clack.
Baba Yaga went out again.
Whispered the thin black cat to Natasha: "There is a comb on the stool and there is a towel brought for your bath. You must take them both, and run for it while Baba Yaga is still in the bath-house. Baba Yaga will chase after you. When she does, you must throw the towel behind you, and it will turn into a big, wide river. It will take her a little time to get over that. When she gets over the river, you must throw the comb behind you. The comb will sprout up into such a forest that she will never get through it at all."
"But she'll hear the loom stop," said Natasha, "and she'll know I have gone."
"Don't worry, I'll take care of that," said the thin black cat.
The cat took Natasha's place at the loom.
Clickety clack, clickety clack; the loom never stopped for a moment.
Natasha looked to see that Baba Yaga was still in the bath-house, and then she jumped out of the hut.
The big dog leapt up to tear her to pieces. Just as he was going to spring on her he saw who she was.
"Why, this is the little girl who gave me the bread and meat," said the dog. "A good journey to you, little girl," and he lay down with his head between his paws. She petted his head and scratched his ears.
When she came to the gates they opened quietly, quietly, without making any noise at all, because of the oil she had poured into their hinges before. Then -- how she did run! Meanwhile the thin black cat sat at the loom. Clickety clack, clickety clack, sang the loom; but you never saw such a tangle of yarn as the tangle made by that thin black cat. Presently Baba Yaga came to the window. "Are you weaving, little niece?" she asked in a high-pitched voice. "Are you weaving, my pretty?" "I am weaving, auntie," said the thin black cat, tangling and tangling the yarn, while the loom went clickety clack, clickety clack. |
"That's not the voice of my little dinner," said Baba Yaga, and she jumped into the hut, gnashing her iron teeth. There at the loom was no little girl, but only the thin black cat, tangling and tangling the threads!
"Grrr!" said Baba Yaga, and she jumped at the cat. "Why didn't you scratch the little girl's eyes out?" The cat curled up its tail and arched its back. "In all the years that I have served you, you have given me only water and made me hunt for my dinner. The girl gave me real cheese."
Baba Yaga was enraged. She grabbed the cat and shook her. Turning to the servant girl and gripping her by her collar, she croaked, "Why did you take so long to prepare the bath?" "Ah!" trembled the servant, "in all the years that I've served you, you have never so much as given me even a rag, but the girl gave me a pretty kerchief."
Baba Yaga cursed her and dashed out into the yard.
Seeing the gates wide open, she shrieked, "Gates! Why didn't you squeak when she opened you?" "Ah!" said the gates, "in all the years that we've served you, you never so much as sprinkled a drop of oil on us, and we could hardly stand the sound of our own creaking. But the girl oiled us and we can now swing back and forth without a sound."
Baba Yaga slammed the gates closed. Spinning around, she pointed her long finger at the dog. "You!" she hollered, "why didn't you tear her to pieces when she ran out of the house?"
"Ah!" said the dog, "in all the years that I've served you, you never threw me anything but an old bone crusts, but the girl gave me real meat and bread."
Baba Yaga rushed about the yard, cursing and hitting them all, while screaming at the top of her voice.
Then she jumped into her giant mortar. Beating the mortar with a giant pestle to make it go faster, she flew into the air and quickly closed in on the fleeing Natasha.
For there, on the ground far ahead, she soon spied the girl running through the trees, stumbling, and fearfully looking over her shoulder.
"You'll never escape me!" Baba Yaga laughed a terrible laugh and steered her flying mortar straight downward toward the girl.
Natasha was running faster than she had ever run before. Soon she could hear Baba Yaga's mortar bumping on the ground behind her. Desperately, she remembered the thin black cat's words and threw the towel behind her on the ground. The towel grew bigger and bigger, and wetter and wetter, and soon a deep, broad river stood between the little girl and Baba Yaga.
Natasha turned and ran on. Oh, how she ran! When Baba Yaga reached the edge of the river, she screamed louder than ever and threw her pestle on the ground, as she knew she couldn't fly over an enchanted river. In a rage, she flew back to her hut on hen's legs. There she gathered all her cows and drove them to the river. "Drink, drink!" she screamed at them, and the cows drank up all the river to the last drop. Then Baba Yaga hopped into her giant mortar and flew over the dry bed of the river to pursue her prey.
Natasha had run on quite a distance ahead, and in fact, she thought she might, at last, be free of the terrible Baba Yaga. But her heart froze in terror when she saw the dark figure in the sky speeding toward her again.
"This is the end for me!" she despaired. Then she suddenly remembered what the cat had said about the comb.
Natasha threw the comb behind her, and the comb grew bigger and bigger, and its teeth sprouted up into a thick forest, so thick that not even Baba Yaga could force her way through. And Baba Yaga the witch, the bony-legged one, gnashing her teeth and screaming with rage and disappointment, finally turned round and drove away back to her little hut on hen's legs.
The tired, tired, girl finally arrived back home. She was afraid to go inside and see her mean stepmother, so instead she waited outside in the shed. When she saw her father pass by she ran out to him.
"Where have you been?" cried her father. "And why is your face so red?"
The stepmother turned yellow when she saw the girl, and her eyes glowed, and her teeth ground together until they broke. But Natasha was not afraid, and she went to her father and climbed on his knee and told him everything just as it had happened. When the old man learned that the stepmother had sent his daughter to be eaten by Baba Yaga, the witch, he was so angry that he drove her out of the hut and never let her return.
From then on, he took good care of his daughter himself and never again let a stranger come between them. Over a table piled high with bread and jam, father and daughter would again play peek-a-boo back and forth from behind the samovar, and the two of them lived happily ever after.


* * * * * * * * * * * * * * * * * * * * * * * * * * * * * * * * * * * * * * T O P * * * * * * * * * * * * * * * * * * * * * * * *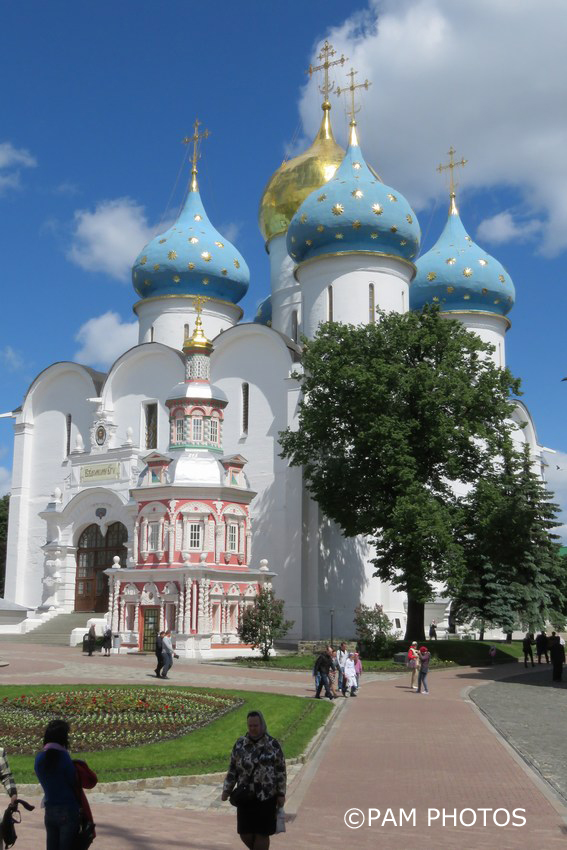 Walking around the Lavra of Sergiev Posad leaves a very strong impression.
This is The Assumption Cathedral. This cathedral, built in 1559-1585 by order of Ivan the Terrible, is much larger than the cathedral of the same name in the Kremlin of Moscow.
Near the north-western corner of the Assumption Cathedral is the burial-vault of Tsar Boris Godunov and his family.
For those who are not familiar with him, Boris Godunov was the most powerful man in Russia at the end of the 16th century, and tsar from 1598 to 1605.
Andrei Rublev's famous icon 'The Trinity' is the central piece
of the iconostasis of the Trinity Cathedral.
The Trinity Lavra of St. Sergius in Sergiev Posad is the most important Russian monastery and the spiritual centre of the Russian Orthodox Church.
If you look at the imposing architectural ensemble of the monastery today, it is difficult to imagine that this impressive complex has grown out of a group of timbered chapels around the small, wooden Trinity Church.
The life of Saint Sergius and the monks was in accordance with the laws of asceticism; everyone took care of a small garden, which had to provide everything necessary for life...
Nicholas Roerich, 'St Sergius the Builder' 1940
* * * * * * * * * * * * * * * * * * * * * * * * * * * * * * * * * * * * * * T O P * * * * * * * * * * * * * * * * * * * * * * * *
Sergiev Posad – Moscow (by train)
We were told that very few trains would run on this route, but that wasn't exactly the case. There were enough trains, if one was willing to travel with the local peasants. Those trains had wooden benches and leaking windows, that didn't prevent rain and water from getting in. Puddles on the floors were a common occurrence.
On our trip a woman carrying an overnight bag entered our compartment. She opened her bag and showed us some pairs of nice and warm socks. The woman ahead of us showed interest. After a brief examination of the socks an agreement was reached and the socks were purchased.
At the next station, our socks saleswoman left the train.
She was not the only one, however; this encounter was not the only instance of 'train sales'.
During our trip we observed purchases of all kinds of 'useful' objects. Saleswomen continually walked the train corridors loudly promoting such items as scythes, socks, embroidery and tablecloths, brushes and key rings, and other common items.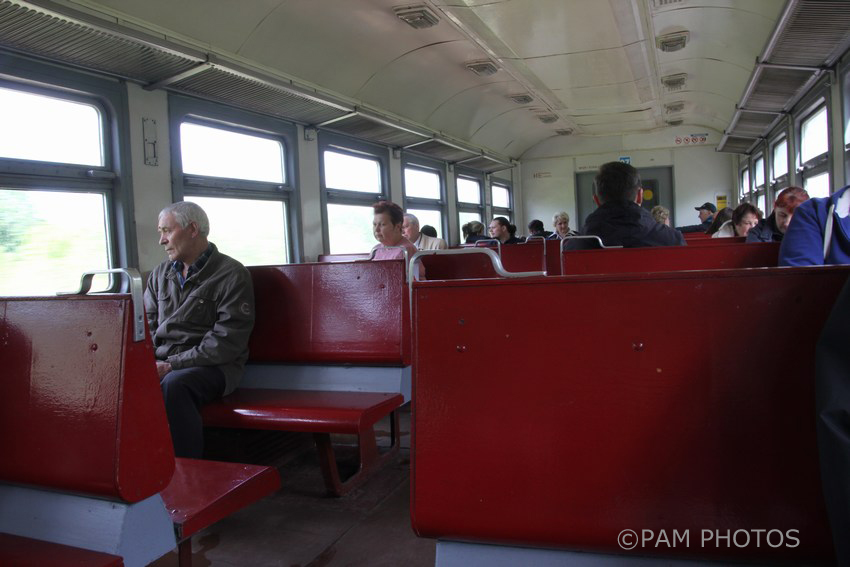 * * * * * * * * * * * * * * * * * * * * * * * * * * * * * * * * * * * * * * T O P * * * * * * * * * * * * * * * * * * * * * * * *

MOROZKO

Once there lived an old widower and his daughter. In due time, the man remarried to an older woman who had a daughter herself from a previous marriage. The woman doted on her own daughter, praising her at every opportunity, but she despised her stepdaughter.
She found fault with everything the girl did and made her work long and hard all day long.
One day the old woman made up her mind to get rid of the stepdaughter once and for all. She ordered her husband: "Take her somewhere so that my eyes no longer have to see her, so that my ears no longer have to hear her. And don't take her to some relative's house. Take her into the biting cold of the forest and leave her there."
The old man grieved and wept, but he knew that he could do nothing else; his wife always had her way. So he took the girl into the forest and left her there. He turned back quickly so that he wouldn't have to see his girl freeze.
Oh, the poor thing, sitting there in the snow, with her body shivering and her teeth chattering! Then Morozko (the Father Frost), leaping from tree to tree, came upon her. "Are you warm, my lass?" he asked.
"Welcome, my dear Morozko. Yes, I am quite warm," she said, even though she was cold through and through.
At first, Morozko had wanted to freeze the life out of her with his icy grip. But he admired the young girl's stoicism and showed mercy. He gave her a warm fur coat and downy quilts before he left. In a short while, Morozko returned to check on the girl.
"Are you warm, my lass?" he asked.
"Welcome again, my dear Morozko. Yes, I am very warm," she said.
And indeed she was warmer. So this time Morozko brought a large box for her to sit on. A little later, Morozko returned once more to ask how she was doing. She was doing quite well now, and this time Morozko gave her silver and gold jewelry to wear, with enough extra jewels to fill the box on which she was sitting!
Meanwhile, back at her father's hut, the old woman told her husband to go back into the forest to bring back the body of his daughter. He did as he was ordered. He arrived at the spot where had left her, and was overjoyed when he saw his daughter alive, wrapped in a sable coat and adorned with silver and gold. When he arrived home with his daughter and the box of jewels, his wife looked on in amazement.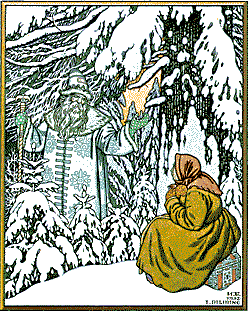 "Harness the horse, you old goat, and take my own daughter to that same spot in the forest and leave her there," she said.
The old man did as he was told. Like the other girl at first, the old woman's daughter began to shake and shiver. In a short while, Morozko came by and asked her how she was doing.
"Are you blind?" she replied. "Can't you see that my hands and feet are quite numb? Curse you, you miserable old man!"
Dawn had hardly broken the next day when, back at the old man's hut, the old woman woke her husband and told him to bring back her daughter, adding: "Be careful with the box of jewels." The old man obeyed and went to fetch the girl. A short while later, the gate to the yard creaked. The old woman went outside and saw her husband standing next to the sleigh. She rushed forward and pulled aside the sleigh's cover. To her horror, she saw the body of her daughter, frozen by an angry Morozko. She began to scream and berate her husband, but it was all in vein.
Later, the old man's daughter married a neighbor, had children, and lived happily. Her father would visit his grandchildren every now and then, and remind them always to respect Old Man Winter.

Father Frost and the step daughter, Ivan Bilibin, 1932
* * * * * * * * * * * * * * * * * * * * * * * * * * * * * * * * * * * * * * T O P * * * * * * * * * * * * * * * * * * * * * * * *


Once upon a time there lived a woodcutter and his old wife. They were poor and had no children. The old man cut logs in the forest and carried them into town; in this way he eked out a living. As they grew older they became sadder and sadder at being childless. "We are growing so old. Who will take care of us?" the wife would ask from time to time. "Do not worry, old woman. God will not abandon us. He will come to our aid in time," answered the old man.
One day, in the dead of winter, he went into the forest to chop wood and his wife came along to help him. The cold was intense and they were nearly frozen. "We have no child," said the woodcutter to his wife. "Shall we make a little snow girl to amuse us?" They began to roll snowballs together, and in a short while they had made a "snegurochka," a snow maiden, so beautiful that no pen could describe her. The old man and the old woman gazed at her and grew even sadder. "If only the good Lord had sent us a little girl to share our old age!" said the old woman.
They thought on this so strongly that suddenly a miracle happened. They looked at their snow maiden, and were amazed at what they saw. The eyes of the snow maiden twinkled; a diadem studded with precious stones sparkled like fire on her head; a cape of brocade covered her shoulders; embroidered boots appeared on her feet. The old couple looked at her and did not believe their eyes. Then the mist of breath parted the red lips of Snegurochka; she trembled, looked around, and took a step forward. The old couple stood there, stupefied; they thought they were dreaming. Snegurochka came toward them and said: "Good day, kind folk, do not be frightened! I will be a good daughter to you, the joy of your old age. I will honor you as father and mother."
"My darling daughter, let it be as you desire," answered the old man. "Come home with us, our longed-for little girl!" They took her by her white hands and led her from the forest. As they went, the pine trees swayed goodbye, saying their farewell to Snegurochka, with their rustling wishing her safe journey, happy life.
The old couple brought Snegurochka home to their wooden hut, their 'isba,' and she began her life with them, helping them to do the chores. She was always most respectful, she never contradicted them, and they could not praise her enough, nor tire of gazing at her, she was so kind and so beautiful. Snegurochka, nevertheless, worried her adopted parents. She was not at all talkative and her little face was always pale, so pale. She did not seem to have a drop of blood, yet her eyes shone like little stars. And her smile! When she smiled she lighted up the isba like a gift of rubles.
They lived together thus for one month, two months; time passed. The old couple could not rejoice enough in their little daughter, gift of God.
One day the old woman said to Snegurochka: "My darling daughter, why are you so shy? You see no friends, you always stay with us, old people; that must be tiresome for you. Why do you not go out and play with your friends, show yourself and see people? You should not spend all your time with us, aged folk." "I have no wish to go out, dear Mother," answered Snegurochka. "I am happy here."
Carnival time arrived. The streets were alive with strollers, with singing from early morning until late at night. Snegurochka watched the merrymaking through the little frozen window panes. She watched ... and finally she could resist no longer; she gave in to the old woman, put on her little cape, and went into the street to join the throng.
In the same village there lived a maiden called Kupava. She was a true beauty, with hair as black as a raven's wing, skin like blood and milk, and arching brows.
One day a rich merchant came through town. His name was Mizgir, and he was young and tall. He saw Kupava and she pleased him. Kupava was not at all shy; she was saucy and never turned down an invitation to stroll. Mizgir stopped in the village, called to all the young girls, gave them nuts and spiced bread, and danced with Kupava. From that moment he never left town, and, it must be said, he soon became Kupava's lover. There was Kupava, the belle of the town, parading around in velvets and silks, serving sweet wines to the youths and the maidens and living the joyful life.
The day Snegurochka first strolled in the street, she met Kupava, who introduced all her friends. From then on Snegurochka came out more often and looked at the young people. A young boy, a shepherd, pleased her. He was named Lel. Snegurochka pleased him too, and they became inseparable. Whenever the young girls came out to stroll and to sing, Lel would run to Snegurochka's isba, tap on the window and say: "Snegurochka, dearest, come out and join the dancing." Once she appeared, he never left her side.
One day Mizgir came to the village as the maidens were dancing in the street. He joined in with Kupava and made them all laugh. He noticed Snegurochka and she pleased him; she was so pale and so pretty! From then on Kupava seemed too dark and too heavy. Soon he found her unpleasant. Quarrels and scenes broke out between them and Mizgir stopped seeing her. Kupava was desolate, but what could she do? One cannot please by force nor revive the past! She noticed that Mizgir often returned to the village and went to the house of Snegurochka's old parents. The rumor flew that Mizgir had asked for Snegurochka's hand in marriage. When Kupava learned this, her heart trembled. She ran to Snegurochka's isba, reproached her, insulted her, called her a viper, a traitor, made such a scene that they had to force her to leave.
"I will go to the Tsar!" she cried. "I will not suffer this dishonor. There is no law that allows a man to compromise a maiden, then throw her aside like a useless rag!"
So Kupava went to the Tsar to beg for his help against Snegurochka, who she insisted had stolen her lover.
Tsar Berendei ruled this kingdom; he was a good and gracious Tsar who loved truth and watched over all his subjects. He listened to Kupava and ordered Snegurochka brought before him. The Tsar's envoys arrived at the village with a proclamation ordering Snegurochka to appear before their master.
"Good subjects of the Tsar! Listen well and tell us where the maiden Snegurochka lives. The Tsar summons her! Let her make ready in haste! If she does not come of her will we will take her by force!"
The old woodcutters were filled with fear. But the Tsar's word was law. They helped Snegurochka to make ready and decided to accompany her, to present her to the Tsar.
Tsar Berendei lived in a splendid palace with walls of massive oak and wrought-iron doors; a large stairway led to great halls where Bukhara carpets covered the floors and guardsmen stood in scarlet kaftans with shining axes. All the vast courtyard was filled with people.
Once inside the sumptuous palace, the old couple and Snegurochka stood amazed. The ceilings and arches were covered with paintings, the precious plate was lined up on shelves, along the walls ran benches covered with carpets and brocades, and on these benches were seated the boyars wearing tall hats of bear fur trimmed with gold. Musicians played intricate music on their tympanums. At the far end of the hall, Tsar Berendei himself sat erect on his gilded and sculptured throne. Around him stood bodyguards in kaftans white as snow, holding silver axes. Tsar Berendei's long white beard fell to his belt. His fur hat was the tallest; his kaftan of precious brocade was embroidered all over with jewels and with gold. Snegurochka was frightened; she did not dare to take a step nor to raise her eyes. Tsar Berendei said to her: "Come here, young maiden, come closer, gentle Snegurochka. Do not be afraid, answer my questions. Did you commit the sin of separating two lovers, after stealing the heart of Kupava's beloved? Did you flirt with him and do you intend to marry him? Make sure that you tell me the truth!" Snegurochka approached the Tsar, curtsied low, knelt before him, and spoke the truth; that she was not at fault, neither in body nor in soul; that it was true that the merchant Mizgir had asked for her in marriage, but that he did not please her and she had refused his hand. Tsar Benendei took Snegurochka's hands to help her to rise, looked into her eyes and said: "I see in your eyes, lovely maiden, that you speak the truth, that you are nowhere at fault. Go home now in peace and do not be upset!" And the Tsar let Snegurochka leave with her adoptive parents.
When Kupava learned of the Tsar's decision she went wild with grief. She ripped her sarafan, tore her pearl necklace from her white neck, ran from her isba, and threw herself in the well.
From that day on, Segurochka grew sadder and sadder. She no longer went out in the street to stroll, not even when Lel begged her to come.
Meanwhile, spring had returned. The glorious sun rose higher and higher, the snow melted, the tender grass sprouted, the bushes turned green, the birds sang and made their nests. But the more the sun shone, the paler and sadder Snegurochka grew.
One beautiful spring morning Lel came to Snegurochka's little window and pleaded with her to come out with him, just once, for just a moment. For a long while Snegurochka refused to listen, but finally her heart could no longer resist Lel's pleas, and she went with her beloved to the edge of the village.
"Lel, oh my Lel, play your flute for me alone!" she asked. She stood before Lel, barely alive, her feet tingling, not a drop of blood in her pale face! Lel took out his flute and began to play Snegurochka's favorite air. She listened to the song, and tears rolled down from her eyes. Then her feet melted beneath her; she fell onto the damp earth and suddenly vanished. Lel saw nothing but a light mist rising from where she had fallen. The vapor rose, rose, and disappeared slowly in the blue sky ...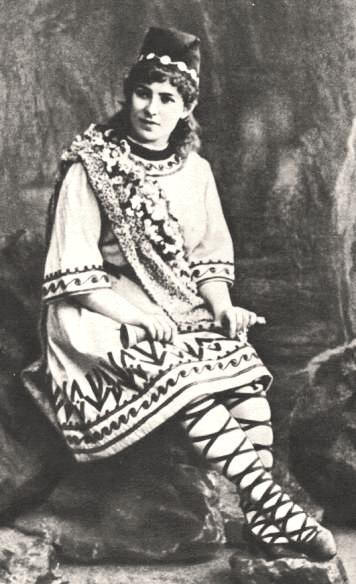 Yevgenia Zbrueva as Lel in the opera The Snow Maiden, 1894.
It's an opera of Nikolai Rimsky-Korsakov, composed during 1880-1881
* * * * * * * * * * * * * * * * * * * * * * * * * * * * * * * * * * * * * * T O P * * * * * * * * * * * * * * * * * * * * * * * *
(to be continued....)